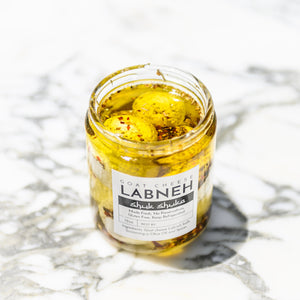 Goat cheese labneh balls swimming in olive oil and spices (VG) (GF) (8oz)
Labneh is a thick, creamy yogurt style cheese and this one is made from goat yogurt, much better for you. Labneh is the Mediterranean version of the classic French Crème fraîche, the Mediterranean version of the plain sour cream, but oh so much tastier. It's a cheesy love story.
Save the oil and the mix spices, use it for your salad. At our market, nothing goes to waste.
Ingredients:
Goat cheese yogurt, Za'atar, Chili, Black pepper, Oregano, Salt, and Mix Olive & Canola oil. 
  **Perishable - keep refrigerated.
Food Is Life
We eat to celebrate. We eat to nourish. We eat to connect. We eat to welcome. We eat to say goodbye.