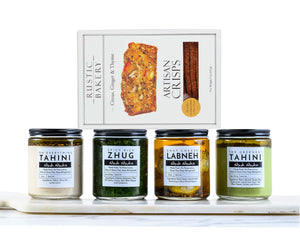 This combo will be a perfect add on to any celebration or meal, as well as a gift for you to share with friends and family. 
Box Includes 
- Rustic Bakery Citrus, Ginger, & Thyme Artisan Crisps


Shuk Shuka's dips:
- On Everything Tahini (thick Tahini, olive oil, lemon juice)
- The Greenest Tahini (Tahini, olive oil, herbs, lemon juice)
- Spicy kick Zhug (cilantro, Jalapeño Olive Oil Garlic, five spices)
- Goat Cheese Labneh (Goat cheese yogurt, Zaat'ar, chili, black pepper, oregano, olives, and olive oil)
**All dips are perishable - keep refrigerated.
Food Is Life
We eat to celebrate. We eat to nourish. We eat to connect. We eat to welcome. We eat to say goodbye.