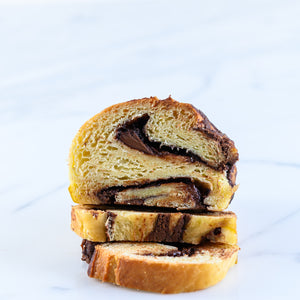 Extremely delicious yeast bake filled with Nutella chocolate (VG)
This babka made from our special dough filled with rich Nutella chocolate is a modern version of the Jewish traditional babka - a lot like a perfect, huge chocolate croissant made in many layers.
Ingredients:
Flour, Nutella, Sugar, Butter, Eggs, Milk, and Yeast.
Food Is Life
We eat to celebrate. We eat to nourish. We eat to connect. We eat to welcome. We eat to say goodbye.