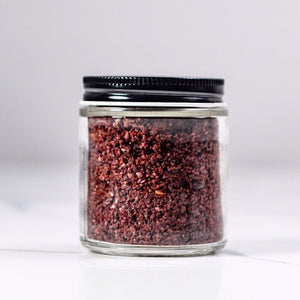 Burlap & Barrel Cured Sumac (4oz)
This Burlap & Barrel spectacular cured sumac grows wild around Gaziantep, Turkey, where instead of being dried, it's chopped and packed in salt to preserve it. It has a bright, sour, salty, and slightly fermented flavor, and is one of our most popular spices among professional chefs and home cooks alike.
A classic Middle Eastern finishing spice, adds character and brightness to salads, fish, meat, or dips.
Ingredients:
Sumac berries (Rhus coriaria), salt 
Food Is Life
We eat to celebrate. We eat to nourish. We eat to connect. We eat to welcome. We eat to say goodbye.