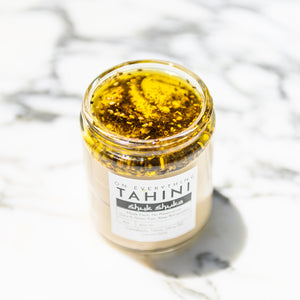 Handmade Tahini, topped with Za'atar and olive oil (V) (GF) (DF) (8oz)
This orgasmic Tahini is Inon's favorite creation - you will never taste Tahini like this. It has been slowly hand-made, with unlimited intention. With a thick texture and an unforgettable flavor, this Tahini goes on everything. Literally everything!
Ingredients:
Thick Tahini, Lemon Juice, Salt, Black pepper, Mix Olive & Canola oil, and Za'atar 
**Perishable - keep refrigerated.
Food Is Life
We eat to celebrate. We eat to nourish. We eat to connect. We eat to welcome. We eat to say goodbye.