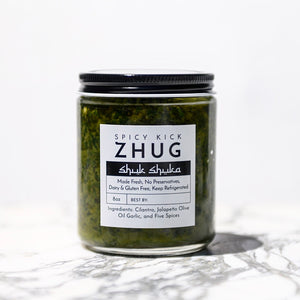 Yemenite chunky herby slightly spicy Chimichurri (V) (GF) (DF) (8oz)
Zhug is the Yemenite Chimichurri, it's our chunky herby salsa made with our traditional spices and lots of fine olive oil. A great add on to your sandwich, bowl, and anywhere you feel you can use some spicy kick.
Ingredients:
Cilantro, Jalapeño, Olive Oil Garlic, and Five spices 
**Perishable - keep refrigerated.
Food Is Life
We eat to celebrate. We eat to nourish. We eat to connect. We eat to welcome. We eat to say goodbye.